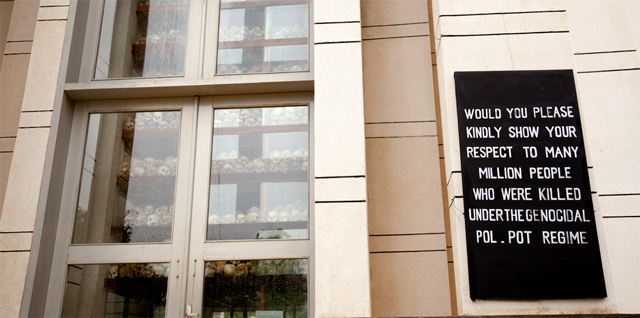 From the years 1975 to 1979, Pol Pot's Khmer Rouge ruled Cambodia. But despite the Maoist revolutionary's belief that the ideal citizens were the peaceful country peasants, his regime led to
an estimated 1.7 million deaths
in a country whose population stood at 8 million.
'Like a nightmare'
If Hitler believed that Germans belonged to a supreme race he called "Aryans," Pol Pot insisted that Cambodians were the Aryans of Asia.
In the eyes of the Khmer Rouge, urban spaces were symbols of capitalism—the enemy, so to speak, of Pol Pot's envisioned agricultural economy, free from foreign influence. The capital city of Phnom Penh, among others, was forcibly evacuated, its population thrust into hard labor:
"Millions of Cambodian city dwellers were now forced into manual slave work in rural areas. Since they were only fed a tin of rice (180 grams) every two days, they quickly began to die from disease, being overworked and undernourished. This is how the "killing fields" came to be known." (
Mount Holyoke College
)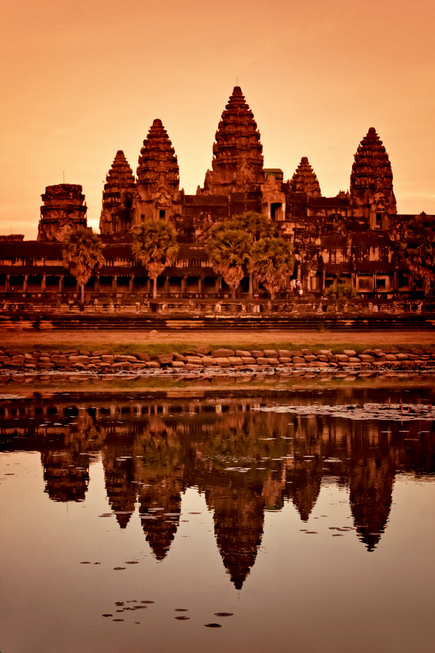 For the 'I-Witness' documentary "A-Ping (Black Spider)," host Jay Taruc journeyed to Cambodia to discover the how remnants of a dark past can be seen in present-day life. He spoke with survivor Talep Rafat, whose father was arrested by the Khmer Rouge and detained in a province away from the rest of the family.
"Life was horrible. It was like hell in this world, it was really hell," Rafat told Taruc. Three decades after Pol Pot's rule ended, Rafat's voice shakes when talking about the past. "I don't know how to describe it. It's like a nightmare."
One of the harshest prisons at the time was Security Prison 21, known to locals as S-21. It was here that thousands were detained, tortured and executed—victims included not just political opponents of the Khmer Rouge, but their entire families.
Today, S-21 has become the Tuol Sleng Genocide Museum. The buildings have largely been preserved, as they were when the Khmer Rouge fell in 1979; there are now entire rooms displaying photos of S-21's prisoners.
The Tuol Sleng Genocide Museum serves as an important, if grisly, marker of Cambodia's past—a reminder for future generations of what must never happen again. But for survivors like Rafat, the images from those years are ones he would rather forget.
"I don't want to remember it anymore. It's very painful. Whenever I talk about this, I get so emotional because it was so hard— I was separated from my family and I had to stay home alone," Rafat told Taruc, breaking down inside Tuol Sleng. "I don't want to see these things anymore. It's enough."
'Anything to survive'
Under Pol Pot, millions suffered from malnutrition. Despite toiling in the fields, ordinary Cambodians like Rafat had no access to the crops they grew—the harvest went to the Khmer Rouge, which rationed out meager portions to the populace.
Rafat recalls how they ate nothing but gruel everyday: "At 11 o'clock, they would ring the bell for us to get food. Everyone had to eat the same food…no meat, no fish," he says. "Until now, if you make porridge for my father, he will say 'enough.' He doesn't want to talk about it."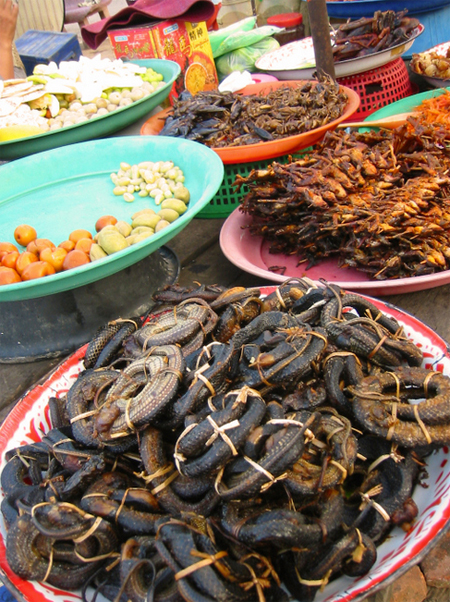 To survive the ordeal, Cambodians took to eating whatever insects, frogs and snakes, snails—whatever they could find. "Anything to survive," Rafat said.
This included what they called a-ping, or black spiders. About the size of an adult's palm, this species of tarantula is still eaten today, almost 25 years after Pol Pot's harsh regime. Today, a-ping is a high-protein street food eaten by curious tourists and knowing locals alike.
The market town of Skuon has earned the moniker 'Spiderville' because of the popularity a-ping enjoys there. Despite the dark story behind how a-ping became part of Cambodia's cuisine, the people of Skuon have embraced exotic food as part of their identity. Eating a-ping is no longer a necessity in desperate times, but a choice.
"People like to eat it fried," a Skuon vendor told 'I-Witness.' "And [tourists] want to hold the spiders and take pictures." The small woman laughed as she handed one to Jay Taruc, teasing him: "You're Spiderman!"
The good with the bad
"Napatunayan ng aming paglilibot sa Cambodia na nananatili pa rin ang kaugnayan ng nakaraan sa kasalukuyan sa pamamagitan ng kanilang pagkain," said Taruc. "Kadikit man ng mga pagkaing ito ang mapait at malagim na karanasan, ito rin ang naging daan para sila ay mabuhay."
It seems that the people of Cambodia take the good with the bad. While Cambodia's exotic cuisine is a reminder of their dark past, it is also a reminder of their resilience—their strength in the face of seemingly insurmountable struggles. — PF, GMA News