A Change of Guard

Saturday, 10 October 2015
'One's a company'.... for Vietnam's Ho - and his followers...
[Reproduced]
« I have gained this from philosophy: that I do without being commanded what others do only from fear of the law. »
Aristotle
« Study the past, if you would divine the future. »
Confucius
Friday, 9 October 2015
Montagnards Flee Persecution in Vietnam For Unsure Future in Cambodia
Eight members of a group of nine Montagnards shelter in Phnom Penh while awaiting assistance from Cambodia's government, Oct. 3, 2015.
RFA
Early in the last decade, thousands in the region staged violent protests against the confiscation of their ancestral lands and religious controls, prompting a brutal crackdown by Vietnamese security forces that saw hundreds of Montagnards charged with national security crimes.
Ethnic Montagnards who have fled Vietnam for Cambodia say they are forced to leave after enduring relentless persecution by authorities in their home country, but regularly face difficulties when they apply for asylum across the border.
About 200 Montagnards have entered Cambodia illegally from Vietnam's Central Highlands since late last year, claiming they are escaping political and religious discrimination back home, but Cambodian officials said last month that only 13 of them will be granted asylum and the rest deported.
One 40-year-old Montagnard who is currently living in Cambodia told RFA's Vietnamese Service that he was unable to support his wife and three young children because of regular harassment by authorities in Vietnam, and while it pained him to leave his family on their own, he "had no choice" but to flee.
"If there was no oppression, I would prefer living in Vietnam—I didn't want to leave my wife, children and my house behind,"
he said, adding that he was in a constant state of fear at the time.
"When I arrived in Cambodia, my wife and children were devastated."
But after crossing the border, the Montagnard—who spoke to RFA on condition of anonymity—said he had faced difficulty adjusting to life in Cambodia and could not obtain refugee status.
"I don't know what to do here," he said.
"I cry out of fear, but if I return [to Vietnam] the police will continue to monitor me and force me to undergo interrogations. I am scared."
A Montagnard woman from central Vietnam's Gia Lai province, whose husband was among a group of nine Christians who have been in hiding in Phnom Penh since arriving in Cambodia last month, said he had been relentlessly hassled by authorities over his religion in their home village of Ia Pet, in Dok Doa district.
"Police kept ordering him to go to the village office for talks, to the point where he could not eat or even sleep in peace," said the woman, who also declined to provide her name, adding that her husband had been severely distressed because "they would not listen to him or leave him alone."
Thursday, 8 October 2015
The Search for Camp 32
Alan Parkhouse
Wednesday, 07 October 2015 KT
Hom meets some Camp 32 survivors who revisit painful memories but can't help him find Camp 32. Supplied
Bunhom Chhorn was only six when the Khmer Rouge separated him from his family and sent him to work in the countryside outside Battambang at a place then known as Camp 32. 
For the next 30 years Hom, as his family and friends call him, was haunted by memories and nightmares about his time in Camp 32, where an estimated 30,000 people perished from execution, starvation and mistreatment at the hands of the Khmer Rouge.
Hom and the surviving members of his family ended up in Australia as refugees and a couple of years ago a team of Australian documentary makers heard his story and took him back to the land of his birth to try to find Camp 32, as there were no records of its existence.
The end result is a spellbinding documentary simply called Camp 32, and the unlikely star on camera is Hom. The soundtrack to Camp 32 is hauntingly beautiful, and Cambodian, and was done by the Phnom Penh-based band Krom. Camp 32 will be shown in Cambodia for the first time in December. 

Lost Souls
"We wanted to get justice for the souls who suffered in Camp 32," said Hom. "Growing up in Australia, I was lucky and I had all these life necessities on a plate.
"But every night I went to sleep, I would have nightmares. I would have this dark figure who was always chasing after me. This stayed with me until I was about 30 years old. I somehow felt like the lost generation where if you don't confront it you just can't let go."
Hom wanted to know about his lost childhood in Cambodia – why he had horrible nightmares and memories of people being killed – and also about the 55 members of his father's family who perished during the rule of the Khmer Rouge in a place that had never even been documented.
"There are many undocumented camps in Cambodia. That's not unusual," he said. "What is unusual about this camp is if we can prove its existence, which we have proven ... it would be the largest killing camp in Cambodia because all the other camps are smaller in numbers [of those] killed."
TPP puts Cambodia's trade, investment in the spotlight
Wed, 7 October 2015 ppp
Ananth Baliga
Trade representatives attend at a press conference for the Trans-Pacific Partnership, a pan-Pacific trade agreement involving 12 nations, in Sydney last year. AFP
The conclusion of the Trans-Pacific Partnership agreement has industry insiders in Cambodia split over whether or not the new pact will limit the Kingdom's trade growth potential in the US market and see future investments diverted to Vietnam.
Ending a long-drawn negotiation process that lasted five years, the 12 members of the Trans-Pacific Partnership (TPP) – which includes the US, Japan, Canada and Vietnam – agreed on a framework Monday that will liberalise trade between the members and "foster inclusive development and promote innovation across the Asia-Pacific region".
Ken Loo, secretary-general of the Garment Manufacturers Association of Cambodia, said that while the agreement was expected, it could eat into the Kingdom's already dwindling economic competitiveness, which is plagued by rising labour costs and logistical deficiencies.
"We're not competitive, that's why exports to the US have been declining every year, because we're losing market share," he said yesterday.
According to Loo, even without the TPP in place, Cambodia is already losing market share in the US. Exports to the US accounted for only 32 per cent of total garment shipments this year, compared with 50 per cent three years ago.
Montagnards Elect To Return to Vietnam, Despite Quest For Asylum in Cambodia
2015-10-07 rfa
A van with Vietnamese Montagnards arrives in northeastern Cambodia's Ratanakri province, Oct. 7, 2015.
(Photo courtesy of Adhoc)
wo dozen ethnic Montagnard Christians who fled Vietnam earlier this year to seek refuge in Cambodia from alleged persecution have volunteered to return home, frustrated with long waits and the dim prospects of being granted asylum, a police official and rights activist in northeastern Cambodia said Wednesday.
Immigration officers from the Cambodian Ministry of Interior escorted the 24 Montagnards as they were transported in four vans from Phnom Penh to remote Ratanakiri province, where they had crossed the border from Vietnam, provincial deputy police chief Chea Bunthoeun told RFA's Khmer Service.
The group reached the province around 6 p.m. and will cross the border back into Vietnam on Thursday, he said.
"They volunteered to return," he said, adding that he did not know the identities of the members of the group. "They will sleep here one night, and tomorrow morning we will send them back through an international border checkpoint."
Chhay Thi, provincial coordinator for the domestic rights group Adhoc who is monitoring the repatriation of the group, told RFA that he is concerned about the fate of the Montagnards.
The Montagnards decided to return to Vietnam in disappointment with the results of their asylum requests, because Cambodian immigration officials always regard them as illegal refugees, he said.
"More Montagnards will decide to go back because they have waited for about one year, and they still haven't gotten any decisions regarding their requests for refugee status and to settle in a third country,"
he said.
"These failures are forcing them to return home."
Support for Malaysia's PM Najib dwindles after scandal
Opposition group calls for PM Najib Razak to quit, arguing he "grossly abused his powers" in a corruption scandal.
Stephanie Scawen | 02 Oct 2015 AJ
A US federal grand jury is examining allegations of corruption involving Najib and individuals close to him [Reuters]
Another group of anti-government voices in Malaysia has added to the chorus of disapproval surrounding the leadership of Prime Minister Najib Razak.
Embroiled for months now in allegations of corruption and embezzlement, the self-styled Demi Malaysia group issued an open call this week for Najib to quit, arguing the prime minister had "grossly abused his powers" and the "country's reputation is at stake".
Najib's honesty and credibility have been under attack since July when the Wall Street Journal first broke the story of approximately $700m deposited in a personal bank account.
He said the money came from an Arab donor. The question of why such an enormous sum was in a personal account and not a political party one remains unanswered.
The WSJ report said the funds came via a series of financial transfers from a heavily indebted state investment fund - 1MDB - which Najib, as finance minister, also oversees.
Campaigners say any other leader found in such a position would have stepped down immediately to allow proper investigations. Yet attempts to do so in Malaysia have not materialised.
For every day [Najib] succeeds to postpone his slow death, Malaysia is sinking a bit deeper in the quick sand.
Wong Chin Huat, political scientist at the Penang Institute
As allegations have kept surfacing, public discontent has grown, culminating in a massive anti-Najib rally on the eve of Independence Day. Organised by electoral reform group Bersih, tens of thousands of people rallied over two days calling on Najib to step down.
Hazardous haze chokes Southeast Asia
Indonesia faces criticism from neighbours for inability to deal with plantation companies burning forest to clear land.
07 Oct 2015 AJ
More than 140,000 people have reported respiratory infections in Indonesia [EPA]
Indonesia's disaster chief has rejected criticism his country is not doing enough to fight forest fires blanketing Southeast Asia in smog.
Indonesia has come under growing pressure from its neighbours in recent weeks as thick smoke from fires on Sumatra and the Indonesian part of Borneo have sent pollution levels soaring in Malaysia and Singapore, where schools have been closed and major outdoor events cancelled.
The problem is being blamed on Indonesia's inability to prevent big plantation companies from burning forests to clear land for new trees.
Haze shrouds Borneo Orangutan Survival Foundation in Nyaru Menteng, Indonesia [Reuters]
The head of Indonesia's disaster agency said all possible resources were being used to fight the fires.
"We have done the best we can," Willem Rampangilei told reporters on Tuesday. "It is understandable if other countries are upset, but we Indonesians are more upset."
Malaysian Prime Minister Najib Razak has called on Indonesia to take action against people setting fires [Reuters]
Respiratory infections
The blazes flare up annually during the dry season as fires are illegally set to clear land for cultivation. But an El Nino weather system has made conditions drier, with this year's haze on track to be the worst on record.
រដ្ឋមន្ត្រី​ក្រសួង​អប់រំ​ប្រតិកម្ម​តប​នឹង​ការ​រិះគន់​របស់​លោក សម រង្ស៊ី
ដោយ ប្រាជ្ញ ចេវ
2015-10-07 rfa
រដ្ឋមន្ត្រី​ក្រសួង​អប់រំ​យុវជន និង​កីឡា លោក ហង់ ជួនណារ៉ុន ផ្ដល់​បទសម្ភាសន៍​ដល់​អ្នក​សារព័ត៌មាន នៅ​ថ្ងៃ​ទី​៧ ខែ​តុលា ក្រោយ​បញ្ចប់​ពិធី​ទិវា​គ្រូបង្រៀន​ឆ្នាំ​២០១៥ នា​រាជធានី​ភ្នំពេញ។
រដ្ឋមន្ត្រី​ ក្រសួង​អប់រំ ច្រានចោល​ការ​រិះគន់​របស់​លោក សម រង្ស៊ី ថា ប្រព័ន្ធ​អប់រំ​នៅ​កម្ពុជា ខ្សោយ​នោះ មិន​ចំណេញ​ដល់​វិស័យ​អប់រំ​ទេ។
មន្ត្រី ​ជាន់​ខ្ពស់​នៃ​គណបក្ស​នេះ លើក​ឡើង​ថា លោក​រដ្ឋមន្ត្រី​គួរ​យក​ប្រសាសន៍​របស់​លោក សម រង្ស៊ី ទៅ​ពិចារណា ជា​ជាង​ការ​ឆ្លើយ​តប​ទាំង​កំហឹង​បែប​នេះ។
រដ្ឋមន្ត្រី​ក្រសួង​អប់រំ ហៅ​ការ​រិះគន់​របស់​គណបក្ស​សង្គ្រោះ​ជាតិ ជា​ការ​រិះគន់​ដើម្បី​វាយ​ប្រហារ មិន​មែន​ដើម្បី​កែ​លម្អ​​នោះ​ទេ។
ថ្លែង ​ក្រោយ​បិទ​បញ្ចប់​ទិវា​គ្រូបង្រៀន នៅ​វិទ្យាស្ថាន​បច្ចេកវិទ្យា​កម្ពុជា ហៅ​សាលា​តិចណូ នៅ​ថ្ងៃ​ទី​៧ ខែ​តុលា រដ្ឋមន្ត្រី​ក្រសួង​អប់រំ​យុវជន និង​កីឡា លោក ហង់ ជួនណារ៉ុន និយាយ​ថា លោក សម រង្ស៊ី មិន​ឲ្យ​តម្លៃ​ការ​អប់រំ​នៅ​កម្ពុជា ព្រោះ​គ្រួសារ​របស់​លោក សម រង្ស៊ី និង​លោក សម រង្ស៊ី មិន​ដែល​រៀន​នៅ​កម្ពុជា ទេ។ លោក​រដ្ឋមន្ត្រី​ថែម​ទាំង​បង្ហាញ​ការ​សង្ស័យ​ថា លោក សម រង្ស៊ី ចេះ​ភាសា​ខ្មែរ​មិន​ច្បាស់ ដោយ​លើក​ឡើង​ថា មាន​គ្រូ​ខ្លះ​បបួល​លោក សម រង្ស៊ី ប្រឡង​ភាសា​ខ្មែរ៖ «អ្វី​ដែល​ឯកឧត្តម សម រង្ស៊ី ថ្លែង​វាយ​ប្រហារ​ប្រព័ន្ធ​អប់រំ​នៅ​កម្ពុជា ហ្នឹង គឺ​ថា​ការ​វាយ​ប្រហារ​នោះ​គ្មាន​ន័យ ក៏​ដូច​គ្មាន​សារសំខាន់​អី​ទេ ដោយ​ហេតុ​អ្នក​នយោបាយ​បាន​តែ​ថា មិន​បាន​ធ្វើ មិន​ដែល​ឃើញ​ឯកឧត្តម សម រង្ស៊ី កៀរគរ​រក​ថវិកា​កសាង​សាលា​បាន​មួយ​ខ្នង។ ចំណុច​ទី​២ គាត់​មិន​ឲ្យ​តម្លៃ​ការ​អប់រំ​នៅ​កម្ពុជា ដោយសារ​តែ​គាត់ និង​គ្រួសារ​គាត់​មិន​ដែល​រៀន​នៅ​កម្ពុជា ទេ ហើយ​ក៏​មិន​ច្បាស់​ថា​គាត់ (លោក សម រង្ស៊ី) សរសេរ​ខ្មែរ​ច្បាស់​ល្អ​ដែរ»។
០៧ តុលា ២០១៥ / 07 October 2015"ខ្ញុំសូមថ្លែងអំណរគុណដល់បងប្អូនជនរួមជាតិ បងប្អូនខ្មែរស្នេហាជាតិ អ្នកស្រលាញ់ទឹកដី អាណិតប្...
Posted by Sam Rainsy on Tuesday, 6 October 2015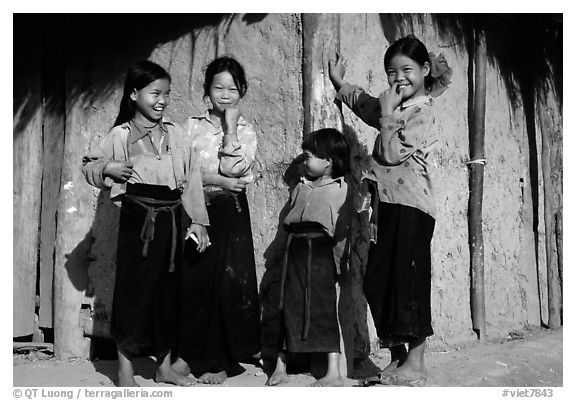 Montagnard Children near Tuan Giao. Northwest Vietnam
Ethnic Khmers of Kampuchea Krom [Southern Vietnam] have fought hard to retain their distinct entity as a people despite being robbed of lands, socio-economic status and national self-determination. Even their historical roots and history have been subjected to systematic reinterpretation and re-invention by Vietnamese authorities to deny them their claim to being the indigenous inhabitants of this part of former Cambodian territory. The stirrings of Khmer Krom nationalism, a consequence in part of centuries of discrimination and persecution at the hands of the Vietnamese states of various ideological persuasions and eras, are one sub-plot in Hanoi's determination to keep Cambodia within its economic and political sphere of influence and hegemony -
School of Vice
Montagnards: Victims and Microcosm of Vietnam's Expansion and Imperialism
Saturday, December 18, 2010
Op-Ed by MP
THE major donor countries - particularly, the US, Japan, Australia and other EU countries should not ignore the plight of refugees known as 'Montagnards', currently, the subject of repatriation to Vietnam by the Phnom Penh government . On humanitarian grounds, at least, this group, drawn from one of Vietnam's politically persecuted ethnic minorities should be allowed to remain in Cambodia or to claim asylum in any other third countries of their own choosing, in accordance with international conventions on refugees. No human being would consider the prospect of living in exile, away from their native habitat as an easy choice to make, especially if your state and government put a premium upon your head or discriminate against you as a people and an entity, such as the Khmer Krom people or the Montagnards. The Vietnamese regime had angered their Chinese counterpart in the 1970s and 1980s by discriminating against ethnic Chinese residents in Vietnam - a practice they extended to Cambodia through their client regime of the PRK - prompting waves of exodus of the 'boat people' of Chinese descend out of Vietnam, particularly, from former South Vietnam, and this had been one of the factors behind Beijing's determination to 'teach Hanoi a lesson' in 1979.
For all its tireless propaganda effort, the Vietnamese state has yet to respect the rights and integrity of indigenous populations living within their ever expanding territories. In the wake of the overthrow of the Pol Pot regime, the centuries-long repressed people of Kampuchea Krom had a chance to escape this repression by simply crossing over the western border into Cambodia. Economic poverty was a major contributing factor for this movement, but the Khmer Krom people have had their farms and livelihoods imperceptibly but ineluctably seized from their ownership or control from the moment Vietnamese authorities extended their official administrative presence across this region of former Cambodian territories, clearing the way for ethnic Vietnamese farmers to assume permanent control over the villages and farmlands; a historical trend that has been perpetuated and replicated to this day to the grief and misery of the Montagnards and - since the early 1990s or perhaps earlier - the Khmer farmers along the eastern frontiers.
Hope for 'bomb threat' student
Wed, 7 October 2015
Chhay Channyda
University student Tao Savoeun poses for a photo at a local police station in Siem Reap province last month. Photo supplied
Interior Minister Sar Kheng is seeking the legal means to engineer the acquittal of a student who threatened in a Facebook post to bomb a graduation ceremony he was scheduled to attend.
The student, Tao Savoeun, wrote a letter to the minister on Monday, apologising and pleading for mercy. Sar Kheng read the letter yesterday, said ministry spokesman Khieu Sopheak, and the minister is considering ways the student might be granted clemency.
"Samdech [Sar Kheng] read the letter and he is considering this case, because he has not filed the complaint against the student," Sopheak said yesterday. "He has not accused the student. We are finding a legal procedural way [to help him]."
Tao Savoeun, 26, was arrested on September 28, shortly after getting his bachelor's degree in business management from the University of Southeast Asia in Siem Reap.
Angry with the minister because of changes to the graduation ceremony date, which interfered with his work schedule, Savoeun posted that he would "place a bomb to kill everyone" at the graduation on his Facebook account.
New TB screening approach yields good result
Wed, 7 October 2015
Jamie Elliott
A patient and a family member sit on a bed at the National Centre for Tuberculosis and Leprosy Control in Chamkarmon district, Phnom Penh, in 2013. Heng Chivoan
Research into a new approach to tuberculosis screening has yielded promising results after a trial run amongst Phnom Penh's urban poor, according to a new paper released on Friday.
The method – called the "active case finding strategy" – involves health workers visiting people in their homes and collecting samples of mucus and saliva to test for cases of TB preemptively.
"We were able to detect TB cases among the urban poor, who have far less access to health care," said the author of the research, PhD student Natalie Lorent of the Institute of Tropical Medicine, Antwerp.
"Untreated patients may die of the disease but they may also infect others around them. It is therefore important to find and treat new cases as soon as possible."
TB is a leading cause of death in Cambodia, and according to the World Health Organization 2014 global tuberculosis report, almost 40,000 cases of TB were identified in the Kingdom in 2013, the most recent year for which WHO figures are available.
Preemptive screening and early diagnosis is especially important because, as Lorent notes in her report, as many as a third of all TB cases worldwide go undiagnosed.
Cadre denies targeting Cham
Wed, 7 October 2015
Alessandro Marazzi Sassoon
Ban Seak (left) testifies before the Extraordinary Chambers in the Courts of Cambodia during Case 002/02 against Nuon Chea and Khieu Samphan yesterday in Phnom Penh. ECCC
(((
School of Vice: In reality the KR regime 'targeted' everyone, including their own cadres and Pol Pot's former colleagues.
)))
Under cross-examination by the defence, former district cadre Ban Seak told the Khmer Rouge tribunal yesterday that he had no knowledge of any targeted persecution of the Cham ethnic minority, whose alleged genocide at the hands of the Pol Pot regime is currently being examined.
Asked by Nuon Chea defender Victor Koppe about whether he was aware of any Cham rebellions in the area surrounding Kroch Chhmar district in Kampong Cham province, Seak said, "I did not know about any rebellion before my arrival."
Seak testified to only know of a rebellion in 1978, but "it was not initiated by the Cham people", he said.
He also insisted, repeating testimony he gave the day before, that purges had nothing to do with race.
"The upper echelons never gave any instructions that the Khmer or Cham should be purged," only that "CIA or KGB agents should be eliminated"
, Seak said.
Even for his own relatives, if people "did not have a clean biography they were smashed", he continued. According to Seak these guidelines motivated the purge of North Zone cadres as well as "a rebellion hatched by [Democratic Kampuchea secretary of commerce] Koy Thuon to overthrow Pol Pot".
Wildlife smuggler arrested
Wed, 7 October 2015
Sen David and Alice Cuddy
A customs official inspects elephant tusks at Siem Reap airport on Sunday, after they were found in a Vietnamese man's luggage when he arrived in the Kingdom. Photo supplied
A Vietnamese national was charged yesterday with smuggling elephant tusks and parts into Cambodia in what wildlife advocates have dubbed a landmark case.
Ream Chan Mony, a deputy prosecutor at Siem Reap Provincial Court, said 43-year-old Vu Le Thuy was charged with "smuggling illegal wildlife and smuggling illegal goods" before being sent to the provincial prison to await trial.
"We charged him on two counts after he smuggled wildlife bones illegally [into Cambodia] and was arrested at Siem Reap airport."
Le Thuy arrived in Siem Reap on a flight from Angola on Sunday evening.
Eleven elephant tails and 46.1 kilograms of ivory were seized from his suitcase, according to Suwanna Gauntlett, founder and CEO of the Wildlife Alliance, whose Wildlife Rapid Rescue Team (WRRT) were called by customs officers to assist in the bust. Claws and a jaw belonging to an unidentified big cat were also seized.
Suwanna said the WRRT was cooperating with local officials to find the buyers, whom they believe to live locally.