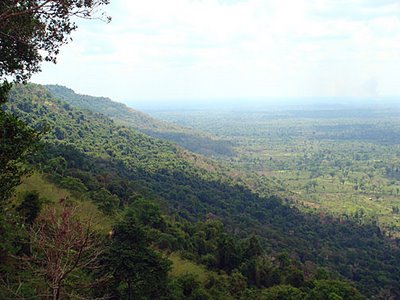 Top:

The poster of Khmer refugees dying at Dangrek Mountains in 1979-1980.
Bottom:

The refugees descended these heavily-wooded slopes of the Dangrek Mountains
into their deaths
as they were forced at gun point by Thai soldiers to return back to Cambodia
.
(source:blog.andybrouwer.co.uk)
By Tim Ung
Sydney, Australia, May 2011
Courtesy of
CambodiaWatch-Australia
.
Almost 32 years ago after Vietnam invaded Cambodia, hundreds of thousands of Cambodian Refugees fled to the border camps on the Cambodia-Thailand border. Tens of Thousands of Khmer refugees were stranded in a no man's land; and in June 1979 The Thai Army rounded up approximately 45,000 people, transported them by buses and dumped them down the steep mountain at Preah Vihear. Those who hesitated were killed on the spot, and those who were forced off had to walk through unmarked mine fields, suffered sickness and starvation at the base of the mountain. At least 10% of those refugees were estimated to have perished or killed.
Here are the stories of some survivors.
************************************************
In January 1979, the army of Vietnam defeated the Khmer Rouge army of Democratic Kampuchea after years of skirmishes along the eastern border, and took over the country. Thousands of Cambodian refugees then poured into nearby Thailand to escape from the sporadic fightings and the famine which were raging savagely. Unfortunately, Thailand rejected the refugees and forcibly repatriated them instead. My family was amongst those estimated 45,000 refugees who were forced back on those fateful days in June 1979.
There were 8 people in our family: my mother, my 3 older sisters, my brother (19 years of age), my nephew (11), one niece (9) and me (17). For reason of safety in number, my family travelled from Cambodia together with some other families (numbering around 30), and we arrived in Nong Chan refugee camp in early May. We thought all our tragic past was behind us when we reached the land of freedom but we were wrong. Our fate was about to take another deadly turn.
_________________________________________________________________________
PART ONE: THE DROP OFF
Four weeks after our arrival at Nong Chan, Thai government ordered the camp closed and hundreds of buses came to take Cambodian refugees away to goodness knew where. The violent manner of the round up bore ill news as refugees were ordered by armed soldiers to board the waiting buses; there were hits, kicks or rifle butts directed toward refugees at random. The brutal operation took many days; but we succeeded in evading the soldiers for 2 days before our luck finally ran out.
On the third day, a convoy of about 50 buses; loaded with thousands of dejected men, women, children and babies; left Nong Chan at about 5 p.m. Our group were amongst those evicted that day.


The buses just drove on and on like our journey had no destination. I sat just behind the driver and was amazed to see we were driven at high speed of up to 80km/hr through many towns, villages and countryside. I was amazed with the progress of Thailand, even out in the countryside, while Cambodia was destroyed after the Khmer Rouge reduced whatever left from the 5 years civil war into total destruction.

Many hours later into the night I woke up when the convoy slowed down at a brightly lit town. As the buses stopped at traffic lights, many Thai citizens converged on the buses in groups of 3 or 4. They started to shove bags of rice, cooked and uncooked, fresh water conveniently packed in small plastic bags, medicines, clothes and many other things to us through the windows. We thought they were trying to sell the goods so we politely refused, we did not have any money. Still they insisted; they spoke in Thai, we spoke in Khmer; and after many sign languages we understood those things were given to us as gifts, all free of charge; we were puzzled. Maybe they were as puzzled why we refused to take their vital gifts? Things that they knew we would need soon? Apparently they knew things that the refugees did not know about.

More of them came with more food and gifts, and I noticed for the first time a few Caucasians were also amongst them. This repeated at the next few sets of traffic lights, therefore I knew it was a planned exercise instead of kind acts of individuals.

Seeing that some of them to be of Chinese extraction, a man in our bus decided to ask them in Chinese dialect of Ta chew, 'Do you know where they are taking us?'

After some hesitation, the man replied: 'I.... err... don't know,' then he added clearly, 'but wherever they take you; please, please DON'T throw away the things we just gave you!'

A lady colleague of the Thai quickly covered her face with her hands and turned away; but she was not fast enough for many of us to notice that she was crying. Then policemen came to chase those good people away before they could tell us anything else, just as the traffic lights turned green again.

We pondered what sort of peril we were about to face as the convoy of doom continued on its way again, gaining speed - racing us at 80km per hour toward our calamity.

The buses drove all night; they did not even stop to let passengers down to relieve themselves, or to stretch our legs. I dozed off many times and then finally woke up as the bus jolted to a stop. Armed soldiers, some dressed in black uniform, boarded the buses and forced us off, then herded and hurried us along deeper and deeper into the jungle.

We endured this forced march for hours until we reached a clearing at the break of dawn. Beyond this clearing a dark and misty wilderness spread out below. That wilderness was Cambodia, and we were standing just metres from a cliff face looking toward it. We were standing on a mountain! We had arrived at Phnom Dangrek, a mountain bordering Cambodia and Thailand.

I was exhausted after a long journey without proper rest. I felt groggy and could not shake off the feeling. Maybe it was the cold misty morning air on the mountain or was it a bad omen? I felt a sense of surrealism - nothing seemed to make sense.

It was strange. There was evidence of pandemonium here. Things were littered all over the place. There were discarded treasures everywhere on the ground: rice sacks (still filled with rice), clothes, pots and pans, straw mats; where were their owners?

Adding to my confusion, my brother started to look around and pick up many things, adding to the weights that he carried already. 'Why is he picking up those items? Surely they belong to some people?' So my mind struggled to think.

As it happened, my brother survival instinct kicked in while I was still in the depth of confusion. Later, we found out that amongst other useful items he also picked up a bagful of rice that measured to be 28 cans (or 7 kg). Without this bag of rice we might starve before we found any food.

We were soon to experience the same chaos that the previous owners of discarded items had suffered. There was a great commotion in front of us as the line came suddenly came to a standstill.

A man turned around to us and said, 'we are in great danger; we are to go down that cliff! Impossible!' I looked where he pointed... 'It must be a mistake; the soldiers would soon clarify that.' So I thought. As if we were not scared enough one of my sisters asked 'Do you see a (dead) body down there?'

Suddenly the shooting started and the echoes from the forest multiplied our collective terror. Everyone lowered themselves to the ground, more as a gesture of submission rather than taking cover; we were strategically placed in the open. At best we hoped that by lowering down we would not offer ourselves as obvious target to the gunmen.

A woman, standing metres from my brother, fell and did not get up. Her family started to cry as blood started to flow freely onto the rock she was standing on, before seeping into the ground under her lifeless body. The mournful howls of the her family pressed their pain deep into our the core of our hearts.

Next, I saw a Thai soldier pointing his gleaming M16 rifle in our direction. I thought he was protecting us against the gunmen who were shooting at us! It was incomprehensible why would anyone shoot at helpless refugees? I thought we were being attacked by bandits as happened on our escape from Cambodia a few weeks earlier. Nothing made sense. Things were simply too horrific to be true - I was in a state of disbelief.

The soldier (with M16) then said something tin Thai. Someone quickly translated to us that he ordered us to go down the cliff or he would open fire; and asked us to leave Thai money behind as it would be useless in Cambodia! He also lied to us that we would be in no danger if we climbed down. Only long afterward that I realised that soldier with M16 was one of the gunmen.

A woman was murdered in cold blood just because Thai soldiers wanted to press their point. There was no warning, no threat – they chose to commit murder at the first sign of our hesitation.

The sun was rising, and looking down, all that I could see was dark forests which spread out to endless wilderness covering to the horizon. We helped each other down as quickly as we could just in case the soldiers decided to let off more rounds. The stronger ones in our group linked hands to lower down the weaker ones. We were lucky that our group had no frail elderly or young babies to take care of. We had to grab tree roots and vines after tossing our belongings down to others who waited below. We descended down the cliff face in that manner for seemingly endless hours.

Before we recovered from the shock, my sister raised the alarm that her 11 year old son was missing! Where could he be? We could not climb up the steep cliff in the state we were in. How could you look for a missing child amongst thousands of panicking people?

As fate would have it, luck did not totally abandon us that day. Sometime later we saw my nephew waiting for us anxiously; standing near to an old gentleman from our travelling group. [My nephew was trying to put as much distance as possible between him and the murderous soldiers; and in his haste forgot to make sure that we kept up with him. His act was understandable considering his experience with gunmen. Only 5 months ago, Vietnamese soldiers who came to 'liberate' our work site sprayed bullets at will, point blank, toward the shed that housed the children work group, killing a boy who was hiding shoulder to shoulder beside him.]

Further down, we realised how lucky my nephew was. We encountered a few lost children along the way, wailing pitifully for their parents. They were either accidentally separated from their families or deliberately left behind, both scenarios were equally possible at the time. Also now and then there was an elderly person who sat calmly beside the track waiting for certain death. They were left behind by their relatives because they could not continue on their own. Everyone there was at their own last reserve of strength and so some people just left their own weaker relatives to obvious fate.

Much later we met a couple with a tiny child of about 3 or 4 years of age. They told us they picked up the child when they found her abandoned at the side of the track. The small child was saved but there was footnote of sadness to it.

'We saw her abandoned beside the track so we brought her along, we never had any child of our own anyway,' said the woman as she looked lovingly at her newly acquired daughter. Her husband then added, 'there were 2 of them but we could only carry one child with us. We took the younger one. Hopefully, some other people would save the older child too...'

By late afternoon, maybe around 3 p.m. we were halfway down the mountain and were able to take some short rests. We were out of firing range from Thai soldiers but we were far from safety yet. In fact, we were now entering another deadly zone - mine fields. With thousands of civilians milling around; there was great chance someone would trigger a mine sooner or later.

There were evidences that every person there should take the mine warning seriously, we were still in mortal danger – now and then we passed a bloated body. The stench was horrific, it permeated and persisted in the air; and tried as we might our eyes still turned to see the maggots covered body that was left where it fell. The livings did their best to walk around and ignore the dead ones.

There were thousands of people everywhere, jostling for surviving space. However we did not lose human decency and in general treated each other as politely as we possibly could. There was no push and shove as expected in such confined place and certainly I did not see any fighting amongst the refugees.

By then, we were running out of water and had to find some soon. My throat was parched dry.

Still, every step we took there were cries of warnings, "Don't go that way!", "Don't touch that shrub!", "That broken tree branch is a mine warning, don't go there!"

The signs were placed by refugees who were there before us; some real, and many more were the subjects of our own paranoia. Let's say if I walked a little too carelessly and snapped a tree branch, that broken branch could easily be misinterpreted as a warning sign by those who walked far behind. There were just too many warning signs.

By that time, we caught up with some people who were dropped one day or two before us; and for various reasons they could not keep going and stopped at the side of the already narrow track. The place was packed with people, some rested just next to a mine warning sign.

The only obvious place that had no mine was the well trodden path, and on many stretches we were told to tread only on the step of the person in front of us. Therefore, there was bottleneck as thousands of people had to tread carefully along on a single track leading out of danger.

For the next 2 hours we advanced no more than 200 metres. We knew that if we were patient and moved carefully, with a lot of luck, we might make it out somehow. But how? And where to? I felt terrified to think how we could survive in that jungle even if we could walk out of the minefields, as all I could see from the top of the mountain was thick jungle covering to the far horizon.

Anyhow we were facing yet another new danger now, everyone was so hungry and thirsty so we had to find some water immediately; to drink as well as to cook food. For this reason, our group decided to take a rest beside the track, mindful to stay only in clear area and not straying (even one step) into the shrubs. My brother and I had to go find water with the men from our group.

On our quest for water, I could not keep up with my brother. And once people cut us off on the walking track here was little chance we could overtake them - the safe track is passable one person at a time. Then minutes later I even lost sight of him. I was afraid he would blame me since I was the one carrying our only water pot, but I there was nothing I could do, so pressed on. A few minutes later I found myself on my own, separated from everyone else in our group who came with us.

Not long afterward, I knew I was lucky when I saw people carrying water in all sorts of containers: cans, buckets, pots, pans, plastic bags; etc. I knew I was on the right track to water. Lots of water! Water for everyone! As much water as I could carry. That lifted up my spirit greatly. The obvious trails of water, dripping off peoples' containers to the ground, enticed me to walk faster, and soon the dry track turned soggy, and finally I found myself walking on muddy track as I got closer to the water source. I could not remember being so happy walking on a puddle of mud in my life.

It was a small but long stagnant stream. I waded in and drank a mouthful of putrid water – it was muddy and badly polluted, and tasted very strange so I spat out, and waded a little further downstream. Looking to the banks I thought I could see mines tied to trees but they could be just my imagination. When I arrived at a point where water was less disturbed, I drank my fill even though it still tasted muddy and strange. I enjoyed the soothing sensation of cool water on my tired legs so I took time washing myself before looking around. On the bank of the stream I saw two legs sprawled on solid ground whilst the upper part of the corpse submerged in the water. It was only a few metres from where I was.

I had to get cleaner water, I thought. Then I made a very silly assumption that any mines in the water would go bad and posed no threat to me! Maybe I was right in that assumption or was I just lucky? Like a clumsy ox I waded in the middle of the stream which was up to my thigh. I waded further from the body and collected water from there instead. There was no choice – we had to drink water from this stream now and worry about sickness later, or we would die of thirst very soon. I filled the pot with water and carried it back to my family. It was not hard to find them; I just had to follow the single track back. My brother already came back. He also found a different water source - a seeping hole, and he brought a bagful back with him. We returned a few more times for water before resting for the day.

We slept on bare ground, after covering it with our precious sheets of well worn polypropylene, or large plastic sheets; the type commonly used by refugees to shelter from rain. We made sure to stay on the spots of those who moved on before us; that was the only way to make sure that patch of land was clear of any explosives.
________________________________________________________________________

PART TWO: WALKING THE MINE FIELDS

On the 2nd day we progressed quite nicely at first – at a rate of about 50 metres in about every 5 minutes, but the was no constant progress. Now and then the long line came to a complete halt. Then it moved again. Stopped again and moved again. The stop - start progress repeated itself for a good part of the morning.

Every so often we passed by crude mine warning signs. There were simply too many that it was easy to lose our sense of vigilance; and once such sense was lost we could easily walked our last step.

Approaching noon we made slow but steady progress further and further from the foot of the mountain. Everyone was tired and thirsty since most of the time we were forced by the immobile human queue to stand under the heat of the scorching sun, ironically in the thick of the jungle. In such circumstances, the cool shades of nearby trees looked so enticing... beckoning us to step out of line. Just for a while?

At some point, the queue steadily moved again and it kept going for hundreds of metres. The line went on and moved up a small hill; I followed the person in front, happy with the progress. The track lead downhill into a bend, and from there on into the cover of large trees beyond. Just as we walked into the bend there were shouts of warning directed at us.

"Stop, Stop!" "Don't come! Don't!" "Stop right there!"

I panicked, thinking we were walking right into a mine. But we were well within the safe zone of the track, and seeing no apparently reason; we sheepishly moved forward until we reached the people in front of us. Then the line came to a complete stop again, and I found myself standing right in the middle of death.

On both sides of the track there were dead bodies strewn all around; I was just metres from the nearest one. We did not detect the smell before reaching this spot because we approached it from upwind. There were about 30 bodies. Some were wrapped in large polypropylene sheets while some were left to rot in the open.

Nothing on earth smells worse than a dead human - an overwhelming sickly sweet stench that seemed to linger thickly in the air. And there we were - standing in between about 30 of them! We could not go forward until the line moved on but it just stalled completely. Likewise there was no moving back, other refugees already crushed on behind us. We were forced to stand there to witness a scene, tragic beyond the extreme; breathing scents of deaths. It was apparent that someone stepped on a huge mine here in the middle of the crowd one or two days ago. I could not help but try to visualise the immense horror as it was happening. Extreme sadness welled in my heart and it was worsen and multiplied many times over by the effect of the smell.

Proper burial was out of question, there was no tool to start with; and digging the ground meant knocking on death's door. I noticed most of the bodies were wrapped up in polypropylene sheets or straw mats which were then tied around tightly. That act of wrapping the bodies suggested families of the victims spent considerable amount of time for mourning before moving on. It was all they could do, maybe just to keep the flies from invading the corpses - to no avail. Now the bodies were in advanced state of decomposition and swelled up like balloons.

No one uttered a word.

In the silence, the only thing we heard was the sound of flies as seemingly millions of them converged on the bodies, and in the process bombarded the sense of the livings. I could even hear the sound of ugly maggots plundering the flesh of the dead, they were having a feast. We were there for a long time - it could be something like 30 minutes, though in reality it might be much shorter, before the line moved on.

We were told later those victims were ethnic Khmer-Islams who were amongst the first group to be sent down. It was even claimed this group was deliberately targeted by the Thais. I was not sure if both claims were true or not. Refugees started to ask each other: of all the places along hundreds of kilometres of Cambodia-Thailand border, why did the Thais chose to push us off that cliff? Without food and water? Straight into mine fields? The answer was obvious.

I could not help but thinking of the group who were forced down on the first day. The track that lead us to safety was paved through the jungle by that group. I could not fathom the bravery of the first men and women who sacrifice themselves in unmarked mine fields in order to lead their loved ones to safety; and in the process, saved thousands of lives in the coming days.

I expected to encounter more of the same harrowing scene but fortunately, there was nothing to that scale. But all day the line started, stopped, started... in the same manner. And again and again, at many stretches we were told to carefully trod on the foot steps on those before us, one step at a time; ever so carefully.

At about 5 o' clock our group rested again at the side of the track. Luckily, water was by then no longer the main problem; there were streams along the way that refugees could use. Luckily, there was no rain.
__________________________________________________________________________

DAY THREE: THE EARTH SHOOK

The next day, after eating some rice gruel we rejoined the miserable human caravan that had no clear destination. All we could hope for was those who made the path did not end up getting lost somewhere in the wilderness that we saw from the top of the mountain. Where could we find more food before ours ran out? With the slow progress we were making each day such scenario was very likely. We knew no one would come to rescue us, so we just had to move on. Just to get to somewhere. Anywhere but here.

We were living one breath, one step at a time. The hunger, the thirst, the exhaustion, the desperation, the depression, the uncertainty, the feeling of hopelessness, the sadness; all types of human miseries descended down upon us, weighting our spirits down closer and closer to hell while the throngs of refugees pinned us from the back and the front; the explosives, from all sides. There was no escape.

Our family lost so many members during Khmer Rouge regime, and more than once in the depth of despair I could not help but thinking who would be the next amongst us to succumb to death?

At about 9 a.m. the line came to a complete stop. We reached a clearing where hundreds of people spent the night, and now they started to rejoin the line, causing bottleneck. One step after the other, one family at a time into the line; it would take forever before the bottleneck sorted itself out.

Seeing it would be a long wait we all put whatever loads we were carrying to the ground. That was when it happened.

BRUMPF!

The earth shook under my feet. Dust, smoke, leaves and twigs rose up, intermingled with the sound of screams which seemed to come from miles away.

It was a suppressive blast that sent shock wave deep down to my soul. The initial shock was followed by a sound of a boom a fraction of a second later. Time stood still. In the ensuing confusion I remembered a war tale, "When it's really close you feel it rather than hear it." It was very, very close, I thought.

People lowered themselves down, bracing ourselves for more explosions but none came. It was very fortunate that all the refugees there from the smallest child up, still kept their wits and stayed rooted to their spots. Had anyone started to run in panic there would be more explosions and more casualties for sure.

As dust settled, the sound of shouts and screams seemed to intensify; then I realised there was a wisp of unearthly smell that came to intrude my sense; somehow I knew it was the smell of blood.

"When you are hit, at first you feel no pain." another war tale raced in my mind. After a quick inspection, I knew I was not hurt. Everyone in our family seemed okay except... there were a few spots of blood on one of my sisters' jacket.

"No, it can't be," I thought to myself.

Not just blood on her jacket but also lumps of extra fine mince meat as well. Upon closer inspection the spots seemed to splash on the jacket from the outside, not seeping from inside. Fortunately, the former was the case. My mother picked up some leaves and cleared the blood and flesh from my sister's jacket. She was not hit. What a relief.

People started to look around; only then we realised how close the blast really was. About 10 metres away I saw a few men sprawled on the ground, motionless. One of them lied on his back, looking up to heaven, while his knees bent over a few bundles he carried only seconds ago. I could never forget that sight.

Certainly there were more injured from that explosion but my attention was absorbed to the mourning of one of the dead men's parents. They bawled out and said to an acquaintance: 'My son! My son! He's dead! Do you see? OUR SON IS DEAD!'

'Did he step on the mine?' asked the acquaintance quite pointlessly, maybe just for the sake of saying something.

'No, it wasn't him. NOT HIM. He didn't step on it,' the father said quickly and steadfastly. Then he added, 'it was someone else.' It was as if he was afraid people would blame his son for causing the panic that morning.

It was very close but we were shielded by the crush of people at least 40 deep. We looked down and waited, listening to the sound of mourning. No one would stop to offer help. No one could help anyone else. Not from the lack of compassion, but everyone was low in energy, low in water and food supply, while racing their own race against time before provision ran out and famine set in. People looked away and waited until the line moved on, leaving behind a few more grieving families and a few more broken bodies in the jungle.

The progress was tortuously slow as usual as we went on. After the recent explosion we realised we had to be constantly alerted; it was best to treat a suspected sign as the real one. We could never afford to be complacent.

I lost count how many days we had to walk in mine fields. It might be 3 days, or 4 days? I think it was just 3 days.
_____________________________________________________________________

PART THREE: THE WAY OUT

As we tried to make our way out, a new fear dawned on us: What will the authority do if we do reach the nearest village? Will we all be sent straight to jail for trying to desert the country? Surely they would consider it a crime of treason? There was guessing what a communist government would do. We had no hope the Vietnamese authority (in charge in Cambodia) would treat us any better than the Thai.

At one point, we were delayed again. As we rounded a bend other people pointed to a mine warning sign and just when I reached that point the line stopped.

'Don't panic,' I told myself, 'nothing to worry about. As long as no one disturbed the mine I would be okay.' Still it was a dreadful feeling being only metres from live explosive – what if someone lost their wit and ran this way? I could not help thinking of the near-miss incident yesterday.

The line stalled for about 5 minutes so I took a good look at the bomb. True enough, I could see it. We all could see it. In a shrub about 1 metre from the track, there was a round object about 40 millimetres in diameter with a chain on top of it, army green in colour. Obviously a mine,
I thought.

At that moment, a lone Vietnamese soldier appeared out of nowhere. He did not walk on the beaten path like we did, but from edge of the jungle! Apparently he was used to this stretch of land. We all stared at him in disbelief, was he real?

He walked toward the line of refugees; I noticed he wore only a side arm. He looked bored and there was no trace of smile or welcome sign from him. The circumstance broke the ice for us - he walked straight to the mine - to our horror! A few more paces he would step on it.

Everyone started to yell: 'Stop! Stop! MINE!', as we pointed to the suspected explosive on the ground.

He might not understand Khmer but our message was obvious. He froze suddenly. Then he proceeded slowly toward the object we pointed out. He kneeled in front of the shrub; all movements indicating a well trained soldier. We went silence as we watched him getting down to work. He cleared the leaves and twigs, everything in circle about half a metre from the object; one leaf, one twig at a time. It took a while before he got to the object. Then he paused for one final observation. All of us went absolutely silence, my heart skipped more than a few beats. Then without any warning he made a grab for the object as we all gasped in shock. Before we could even say NO, he handed the 'land mine' to one of the refugees closest to him. There was a collected sigh of relief, extreme tension suddenly all lifted, and then before any of us recovered enough from the shock, he simply turned around and walked away in the direction he came from; without looking back. The 'mine' was in fact a cap from an army water bottle which was dropped by someone. In a minefield it looked as good as a real mine to untrained eyes.

Soon after, we met a few more Vietnamese soldiers who told us the path was clear, as long as we did not wander too far from it. There was no more traffic congestion and we made good progress. Words spread out there would be food distribution points soon. Everyone raced onward, fearing the promised food supply would run out.

Later that day, we encountered teams of Vietnamese soldiers who doled out emergency rations, made head counts and issued food ration cards on the spot for all. Each of us received a few kilograms of wheat and flour just to last us until we reached next food points along the way. From there onward, we continued on our way for a few more days, passing through many remote villages and used our ration cards to receive more survival rations from food distribution points until we reached a refugee camp at the base of Phnom Dek (or Mount Iron).

Our initial fear that we might be reviled and persecuted by the Vietnamese authority turned out to be unfounded. The villagers were told we were refugees, newly liberated from Khmer Rouge control. Surely, the Vietnamese would have known the truth?

Instead of persecuting refugees, that remote Vietnamese army base provided us with food, helped organising camp, and treated the sick - all without outside help; the very things that Thailand said could not be done even with the promised help of the United Nations.

We stayed at the refugee camp at the base of Mt. Iron, Preah Vihear province for 8 weeks where we still had to struggle through much hardship, hunger and the sense of hopelessness, but nonetheless all of us had survived. The Vietnamese soldiers generally left us alone and appeared only when necessary. I did not see or hear any case of soldiers beating or committing violence against refugees; unlike Nong Chan.


Finally, the local authority organised a ferry to carry us across the raging Saen River. From there on we continued on (bare) foot, through Kompong Thom province, Siem Reap Province and finally settled in Serei Sophon (then a town in Battambang province); a distance of more than 300 km from the original point of drop off. We went through many more obstacles along our tortuous road to freedom but my account of Mount Dangrek tragedy ended here.
_______________________________________________________________________

In 1979, Cambodian survivors of Pol Pot, Khmer Rouge holocaust thought there could be no other comparable regime. However, the Thai government proved us wrong; it was as if they were trying to outdo the Khmer Rouge. As a result, whenever many Cambodian refugees tell their stories and struggle for survival, Thai government was mentioned in the same black note as the Khmer Rouge.

However, I would not end this recount at the point mentioning the force of evil.

** My thought goes to refugees in the first wave to be sent down, especially those who paid ultimate price, sacrificing their lives in exchange for a safe path, so others could live. A few months ago, my brother talked about erecting a memorial at the site; hopefully we will have the support to follow through in the near future.

** I would like to say THANK YOU to those Thai Samaritans who handed food packs to us in the buses. I believe their actions helped save many lives. Their deeds were always remembered in gratitude by us, the refugees. They had shown the world how refugees should be cared for.

Tim Ung
Sydney, Australia, May 2011

*********************************************

After having taken refuge in Nong Chan Refugee Camp in Thailand for 20 days, my family, along with thousands of other refugees, were sent back to Cambodia. I remember that day very well, it took 3 days to remove all the refugees from the Nong Chan Camp and there were at least 50 buses in the convoy. And that was when our long journey started.

My family and I (there were 8 of us), our friends, and others moved around the camp during the first two days of the forced repatriation in an attempt to evade the soldiers who drove us onto the buses, hoping that help from the UNHCR might eventually come if we could delay our departure just a bit longer.

During those 2 days our strategy worked and we remained in the camp. At night we listened to Voice of America broadcast in Khmer and heard that refugees who had been repatriated arrived safely in Cambodia. We were frightened though, even though we knew we'd be safe. I remember that on that day I felt the same way I felt when Cambodia felled to the Khmer Rouge in 1975.

The following day, we were told that listening to VOA was prohibited.

We boarded the bus at 5 pm on the third day, and the convoy departed half an hour later, headed north which we believed towards Bangkok. As it had been a long time since I last travelled in a vehicle, it seemed like we were going very fast. At 10:45 pm the convoy stopped at a town to refuel. A lot of Thai villagers, which appeared to me to be in the thousands, came up to our buses and passed through the bus windows foods, medicine, clothes, rice, water, fruit, sweets, and many other things. Seeing our anxieties some couldn't help busting into tears, and told us not to leave their gifts behind when we got off the bus. We didn't understand why at the time, but we couldn't thank them enough for their kindness.

After refuelling, the convoy turned around instead of going north. I was hungry and tired and kept quiet. I looked up and saw a bright moon. After living almost 4 years under Democratic Kampuchea I came to love the moon because during that dark period under the Khmer Rouge, the moon provided sufficient brightness to enable us to sometimes cook and eat privately after a hard day's work, and not to depend entirely on our pitiful food rations. I heard someone whispered "making a journey under a full moon means good luck, we'll be safe", but I knew it was only a word of encouragement for his family. I fell asleep, and when I woke up it was almost dawn. The bus conductor went from seat to seat asking and searching our shirt pockets for money. We felt half dead by then, and money meant nothing to us, so I didn't really care what he took.

At 6 am, the bus slowed down, and eventually stopped. For some reasons I felt car sick for the first time in my life. A soldier boarded our bus, yelled to us in Thai which I couldn't understand, but his message was clear enough: GET OFF!

As soon as we stepped off the bus, we were hurried towards the forest, we simply followed those in front of us. We walked for about 3 hours without rest, I was hungry and I was sure everyone was tired. Rumor spread that we had to hurry to reach our destination on time. We then reached a location where things were scattered all over the place; rice, clothes, etc. I was panic as there was no logical reason as to why these things were abandoned by their owners. Suddenly, aware of our predicament I decided that self-preservation was first priority. I looked around and picked up a pair of blunt scissors and a bag of rice weighed about 7 kilograms. I now carried these items in addition to water, a cooking pot, a kettle, clothes which I had with me since leaving the bus.

A short while later there was a commotion ahead of us and the march suddenly came to a stand still. A man said "We are in danger, we'll have to climb down the cliff. This is just impossible for me and my family!" Another man replied "What if we ask the soldiers to go back?"

I was scared, then my sister asked "Do you see a copse down there?" I looked the other way, didn't answer her question.

People looked at each other seeking reassurance. Suddenly a few shots were fired and the sound echoed through the forest and, as I turned around, I saw people dodging and dropping to the ground for cover. A woman was shot and killed instantly just a few metres from where I was standing. Rock beneath her was covered in blood, and her relatives were crying. She was so still that it was hard to believe that just seconds ago she was a living human being just like us. I thought to myself "If we just rush at the soldiers we can easily overcome them." Looking back, it would have been suicidal.

A soldier with a two-way radio squatting at the edge of the cliff spoke in Thai. I was told that he told us to climb down or he would shoot, and he also asked us to leave money (Thai currency) behind as it would be useless in Cambodia, he also assured us that we would be in no danger if we climbed down. I looked down again, but all I could see was green vegetation, not a sign of a village. My thought then was that we would have to be physically fit and resourceful like Tarzan to have any chances of survival in the jungle.

There were about 30 people in our group including our close friends. The fittest 4 or 5 among us climbed down first by hanging on to vines and tree trunks, anything they could lay their hands on - there was not a walking track in sight. We then dropped our belonging down to them, and hauled down items like rice, water, and cooking pots with nylon ropes, before descending to join them. We repeated this process over and over. It was a mountaineering feat as none of us had attempted this type of exercise before.

Due to the sheer number of people and the confusion, my 12 year-old nephew got separated from us but we found him soon after, walking with our acquaintances.

Around 3 pm we were about half way down the mountain and were able to take a rest as we were well and truly in Cambodian territory, away from the soldiers above.

And weren't we pleased to be back in Cambodia !

However, we were utterly exhausted and heading towards disaster since we had little food, had no water left, and nowhere to rest. There were thousands of people standing, sitting, lying everywhere, like bees swarming a hive. We could hardly move.

I wanted to go to look for water, but received the following warnings: "Don't take that track", "Don't touch that shrub, it looks suspicious", "That tree limb is a landmine warning, don't step on it". We weren't sure where the mines were, so anything which looked suspicious had a warning placed on top of it. Some people sat as close as half a metre from a warning as there simply wasn't much room to move.

For the next 2 hours our group made little progress, no more than 200 metres. I felt that I had never been that tired, but we had to find water. Some of us were unable to keep going, so we left them where they were, hoping to reunite after we fetch water. We asked for direction to the water and were told "My son took this route since 9 this morning and he hasn't returned yet". We kept going and two minutes later we received a response from a middle aged woman "There are too many people during the day, you'd better wait till midnight". We kept on walking and finally received a positive response: "You'd better go now if you can, just be careful, keep on the track and you'll be OK. Don't go at night it's too dangerous, and when you get to the water don't rush for it, follow others and wait your turn, I've been told people were killed by explosions there."

There was a long queue on the way to the water. Half an hour later when I turned around looking for my brother and friends behind me, they were nowhere in sight so I kept pushing on. Twenty minutes later I reached a small waterhole which I was told had been dug just 2 days ago. The water had foul smell and was dirty. I waited for more water to filter through and collect at the bottom of the hole, then I drank as much as I could and carry a small quantity in a dirty plastic bag which I picked up on my way there.

Around 6 pm we reunited again (the water was only about 500 metres away). However, we were too scare to spread out, to lie down, and to relax in case we stepped on a landmine. Eventually we did what other people did, trust our lives to fate and spread our plastic sheet under a tree, hoping that the area was clear of explosives. It was. I quickly fell into a deep sleep. When I woke up the next morning, mother was already up, she sat there and said she couldn't sleep and counted the hours until morning - our breakfast was ready. I didn't think any of us was hungry, but we ate anyway.

After breakfast, we packed up our belongings and joined a long queue snaking out of the forest. Two hours later we came upon a place permeating with horrible smell, and were told by the people in front not to move any further until there was enough room ahead to move past the corpses hidden among the bushes which were just 20 metres or so from where we were standing. Some 20 minutes later we received a signal to move on which we gladly complied with, and we in turn did the same favour for those behind us. We were told the dead was a result of a landmine explosion. There are no words to describe the smell of decomposing bodies.

By 2 pm, we had only moved a short distance, probably 5 or 6 kilometres from our camp the previous night. There was a stream nearby and we decided to camp there despite being told there was a body of a man beside the stream.

We had a good rest that night, and I decided to take a bath the next morning hoping to feel refreshed afterward. I also felt rather pleased that we made a good decision to camp right next to the water.

I brought a bucket with me to collect water, I filled the bucket and then looked to my left where I saw a swollen body just metres away. I quickly empty my bucket and realised that my brother told me about this yesterday, I just didn't pay attention to his warning.

It was relatively uneventful after that, except that there was a mine explosion some time during the next day or so, sending bits of human flesh onto the shirt of a person standing in front of me. Then someone was silly enough to heat a can of food without opening it first, the pressure built up inside, and the can exploded which gave everyone a fright.

We got out of the forest with the help of the Vietnamese soldiers. They set up food distribution points along the route, with distribution points being approximately one day's walk apart.

When we reached Stung Sen, we stayed there for nearly 2 months, then moved on, crossing Stung Sen River on a boat manned by the soldiers, and walked the rest of the way towards Battambang Province. We set our target of 20 kilometres per day through Kompong Thom, Siem Reap, and we settled in Serei Sophon.

Compared with the experiences of others, my family was very fortunate, relatively speaking.

T U
Merrylands, NSW, 1981