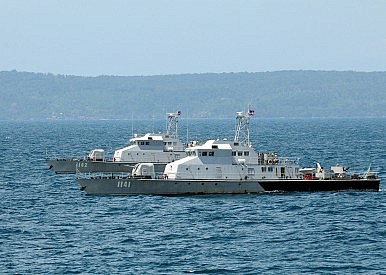 Royal Cambodian Navy patrol crafts participating in Cooperation Afloat Readiness and Training (CARAT) Cambodia 2012.
On July 8, Defense Minister Tea Banh left Cambodia with a large, high-powered delegation of 23 high-ranking military and security officials for a five-day trip to China. While both sides have insisted that the visit is a routine one, recent events, as well as the specifics of the visit, have led it to get significantly more attention than it otherwise would.
Regardless of the nature of the visit, recent events as well as other specifics have led it to receive greater attention than it otherwise would. The trip comes just days after violent border clashes between Cambodia and Vietnam at the end of June in disputed territory reignited concerns over sovereignty and territorial integrity. The Cambodian opposition accused the ruling Cambodian People's Party (CPP), headed by Prime Minister Hun Sen, of using maps drawn by Vietnam to assess the country's borders with Hanoi – a serious charge given Vietnam's invasion and occupation of Cambodia in 1979. As an indicator of how significant the issue is, Hun Sen wrote to United Nations Secretary General Ban Ki-moon on July 6 to ask for a map prepared by colonial ruler France to sort out this problem once and for all. Vietnamese and Cambodian officials have also been meeting in Phnom Penh this week to talk about border issues, though no resolution has been reached at the time of writing.
The trip lasts till July 12, and the jury is still out on the visit and what it really means. But with everything else that has been going on, it is not surprising that a big Cambodian defense delegation landing in China has led observers to speculate.