Nice words from Xamdaach about the right to religious freedom and beliefs. Over recent years the national Buddhist Institute had seem its front gates bulldozed by the powerful Naga Casino next door with close ties to, and influence, over his regime. Currently, a planned motorway is projected to cut right through the heart of the central mosque's immediate vicinity in the capital at Boeung Kak, drawing much ire and protest from within the Khmer Muslim community! To add injury to insult, the PM is reputedly thought to be behind the Pol Pot regime's murderous suppression of the Khmer Muslims' uprising in the 1970s.
>>>
Hun Sen Advises Muslims To Be Wary of Political Change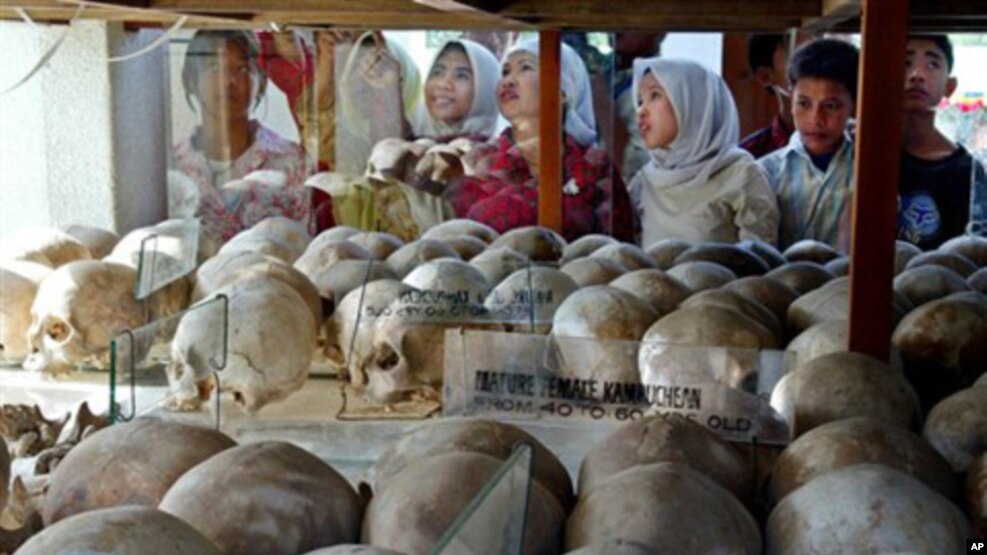 An estimated 500,000 Cambodian Muslims died under the Khmer Rouge, through overwork, starvation or execution, file photo.
Hun Sen warned against political messages of change, such as those that have transpired since the Arab Spring.
PHNOM PENH —
Prime Minister Hun Sen has sent a message to the country's Muslim community, welcoming the beginning of the Islamic New Year and reminding them that the ruling government remains tolerant of different religious beliefs—and that they should be wary of change.
"As you all are aware, the Royal Government of Cambodia has always treated and respected our Cambodian Muslim community as a member of one Khmer family, despite different religious beliefs," Hun Sen wrote. "The government has always supported and promoted the rights of religious freedom, rights of equal employment and rights of participation in all forms of social affairs to all Cambodian Muslims in the country."
At the same time, Hun Sen warned against political messages of change, such as those that have transpired since the Arab Spring.
That shift, he said, has "changed rich to poor, from having mosques to having no mosques, from having schools to no schools, from having hospitals to no hospitals, from having homes to being homelessness [and] living in tents in border camps and running from war almost every day with misery."
Hun Sen, who has remained in power for three decades, went on to remind Muslims that they had suffered under the Khmer Rouge, but during his rule, they have been supported and strengthened, with opportunities for development. This, he wrote, should inspire confidence in his leadership.
Ou Virak, head of the think tank Future Forum, said the letter was a psychological tactic and yet another sign that Hun Sen does not plan on ending his reign over Cambodia.
"He's using the words 'change' and 'instability,' and the example of Syria, to intimidate Khmer people, including Khmer Muslims," Ou Virak said. "It's not strange because this message is in line with what he uses with the general public, not just for Khmer Muslims."
Ou Virak then noted, though, that those atrocities took place 40 years ago. "So Cambodia should not get stuck in the past; meaning, Cambodia should move forward."
Yim Sovann, a spokesman for the Cambodia National Rescue Party, told VOA Khmer that his party hopes to see change, but not extreme change, such as the Khmer Rouge brought to the country.
"Only the Khmer Rouge and ignorant people who are crazy with communist doctrine would do that," he said. "For the Cambodia National Rescue Party, [we] will lead the country in line with democratic principles. All democratic countries, throughout the world, if they truly implement democracy, they grow, they respect human rights, they respect religion, they organize the country with justice with prosperity and civilization. So we will follow those countries that have implemented all of these things."