Posted on

Tue, Dec 11, 2012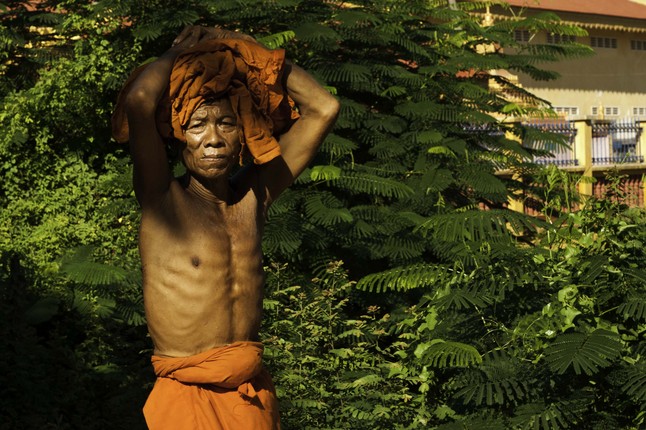 The photographers are students at an educational center housed at Wat Norea, a Buddhist temple.
Face-to-Face AIDS project
established educational programs there for children whose families are affected by AIDS and extreme poverty.
The exhibition came about because of the volunteer work U-M law student Tao Li contributed to the educational center over 7 months of 2011. The future international human rights lawyer and Huron High School grad went there to teach and volunteer.
Originally planning to go over summer break, her role grew into more. While there, she established art, music, sports, and photography classes at the school. She brought in volunteers, funding, and equipment. It was enough of a commitment that it required her to defer law school—a decision the now-first-year law student is glad she made.
Although she had to leave after her 7 months were up, a British photographer named Kevin Shay continues to teach the photography class at the Face-to-Face center. The photographs in the exhibit are from Shay's class.
The excitement the children had for learning photography left a big impact on Li. "In a way, it's them seeing their world for the first time. Photography lets you look at the world in an alternative way," which the kids got really into, she told AnnArbor.com before the exhibition opened. And she elaborated on this point during her speech at the opening reception.
"If you can just imagine that you are your 8-year-old self and you discover this magical box that can somehow capture your entire world in one click. What would you do? You would probably start running around the taking pictures of everyone that is important to you and everything you see that is important to you. And that's precisely what my kids did," Li said at the opening reception.
Li thinks the photographs show "an authentic experience of Cambodia," because it is the kids themselves taking photographs of their own world. She is very aware that, as an outsider to Cambodian culture, using the word "authentic" can get you into trouble.
"There are a lot of exhibitions that look at cultures from a third-person perspective. Outsiders come in and spend some time in a place and suddenly think they know everything about a culture," she says. But in this case, each photograph "is an authentic experience they had looking at their world in a new way—through a camera lens."
Many of the photographs are of people—loved ones, each other, the monks at the temple, and sometimes the children had strangers pose for them. Many are jovial—many faces have smiles on them. A particularly fun photograph shows a girl leaping in mid-air from a set of stairs. Viewing it, you can sense the excitement the children had to get creative and experiment with different ways to use the camera.
Other photographs are more serious, capturing glimpses of what poverty looks like in their own life and immediate surrounds. One of Li's favorite photographs, "2 a.m. Cake Maker," tells a story about the hardships that one of her students faces. At the opening reception, Li told her story. The photographer, a 16-year-old girl, took the photo of her aunt. The teen "would come to class every day but had bags under her eyes and she was always yawning," she tells. What Li finally found out was that "every day at 2 a.m. she would wake up and help her aunt make Cambodian potato coconut cakes to sell at the market by 5 a.m. or 6 a.m.," she explained.
An outsider to the culture might look at the photograph and only see the signs of poverty; however, considering the girl's story makes it so much more complex. Paragraphs about the kids under each of their photographs tell you bits of their stories, which influences the way you look at the photographs.
Li commented at the opening reception how "we tend to prescribe a single story to these people without knowing very much about them. So what I think is the most important part about this exhibition is that it allows us to see beneath the picture and really see these kids' perspectives. What are they trying to tell us?"
One of the biggest impacts the classes have had on the children, according to her, is that they got them excited about going to school. "Things like art, music, photography, and sports help them focus on the rest of school. It made them curious and they wanted to keep coming back. Some of them keep coming back even after they graduate. I think it's really important for them to be well-rounded," Li explains.
After the exhibition at the International Institute closes, Dec. 21, there will be an exhibition in Cambodia to follow. She hopes showing the photos there will "reward and motivate the kids," Li says.
The exhibit runs to Dec. 21 at the Gallery of the International Institute, 1080 S. University Ave, Ann Arbor.