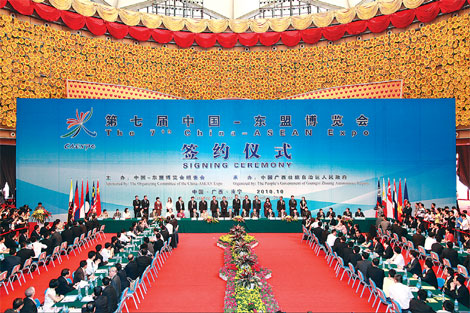 The China-ASEAN Expo provides opportunities for companies looking for new business and plays an active role in China-ASEAN exchanges. Photos provided to China Daily.

PHNOM PENH,
Oct. 20
(Xinhua)
-- Cambodia's Prime Minister Hun Sen on Thursday led a group of senior officials and businessmen to attend the 8th China-ASEAN expo and investment and business summit in China's Nanning, which runs from Oct. 21 to Oct. 26.
Srey Thamrong, a minister attached to Prime Minister Hun Sen, told reporters at Phnom Penh International Airport before departing for Nanning that senior officials accompanying the premier including the Minister of Commerce Cham Prasidh, Secretary General of the Council for the Development of Cambodia Sok Chenda Sophea, Finance Secretaries of State Aun Porn Moniroth and Ok Rabun and businesspeople totaling 250 people.


At the airport, the premier was seen off by other Cambodian high ranking officials and Charge d'Affairs of Chinese Embassy to Cambodia He Leping.

Hun Sen would hold talks with Chinese Premier Wen Jiabao Thursday afternoon and then meet with the management of the China Development Bank and the governor of China's Guangxi Zhuang Autonomous Region, said Thamrong.

He said that the 8th China-ASEAN expo has been attended by exhibitors from China and ASEAN countries totaling 4,600 booths. Also, there are exhibitors from Japan, South Korea, France, Canada, Finland and Nepal.

Some 75 Cambodian companies have their products displayed in 90 booths in the expo, he said.

"The event is very important to promote Cambodian products to the globe and to attract more Chinese investors and investors from ASEAN countries to Cambodia," he said.

The Association of Southeast Asian Nations (ASEAN) groups Brunei, Cambodia, Indonesia, Laos, Malaysia, Myanmar, the Philippines, Singapore, Thailand and Vietnam.

Hun Sen will return to Cambodia on Friday afternoon.

This is Hun Sen's sixth time to attend the China-ASEAN expo held in China's Guangxi Zhuang Autonomous Region. (Xinhua)